The Battle for Wesnoth
The Battle for Wesnoth is a Free, turn-based tactical strategy game with a high fantasy theme, featuring both single-player, and online/hotseat multiplayer combat. Fight a desperate battle to reclaim the throne of Wesnoth, or take hand in any number of other adventures... more »
The development team is proud to release version 1.12 of The Battle for Wesnoth. We really hope you enjoy Wesnoth 1.12 as much as we enjoyed creating it. You can learn more and read the in-depth, translated release notes »
Download Wesnoth 1.12.5 (stable):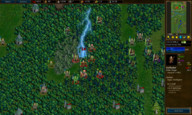 Get Started
Want to know more about the game? Get started and read the complete manual.
Join Us
Whether you are a new player or an experienced developer, welcome to our community.
FAQ
A compilation of the most frequently asked questions about this game and the project behind it.
Reviews
There were many reviews by print and web magazines. Don't hesitate to have a look at them.

News